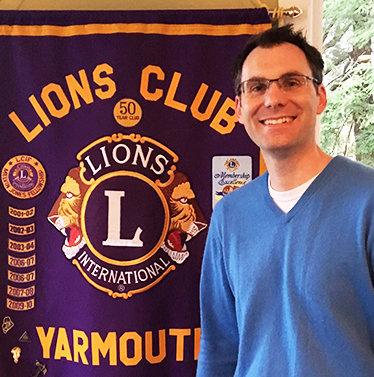 Officer Status:
Vice President (2018 – Current) and Board Member (2018 – Current)
Committee Memberships:
Publicity & Advertising (Chair); Clam Festival Parade (Chair); New Membership (C-Chair); Trees for Tuition; Wreaths for Fuel; Clam Festival Fundraiser
Why Join the Lions Club?
Having moved to Yarmouth from out of state, I wanted to invest in my new community through volunteerism. I sat in on a Lions Club meeting and instantly saw how passionate the members were in caring for the well-being of Yarmouth and the wonderful people who live here.

At the start of every meeting Lions will toast each other by the following:

"Not above you; Not beneath you; But always with you"

The Yarmouth Lions Club is an amazing group of folks from all walks of life. We have a lot of fun, while working to make a real positive impact for many neighbors who could use a hand.
Favorite Lions Club Memory
I love doing graphic design and publicity for the Club to share excitement around our programs that do so much good for the town.

We've made music videos to sell Christmas trees, auto-tuned our Town Manager to celebrate 70 years of service, and even choreographed a series of dance moves to win first place at the Clam Festival parade, getting over 1.5 million views to the video.