Lime Rickey and the new all-natural Lemon Lucy slush drink refresh Yarmouth Clam Festival attendees
[Yarmouth, Maine – July 20, 2019] With soaring humidity and temperatures hitting the mid and upper-90's, attendees of the 2019 Yarmouth Clam Festival are dealing with one of the hottest weekends on record. This 3-day event typically draws over 120,000 visitors to the town of Yarmouth, Maine, making it one of the most popular Summer-time events in Southern Maine.
Despite the heat, thousands of people are enjoying all that the Clam Fest has to offer, relying on two of the festival's staple beverages to keep the fun going: The Lime Rickey, sold by the Downeasters Barbershop Chorus, and the new Lemon Lucy slush offered by the Yarmouth Lions Club.
So Happy Together: Lemon Lucy and Lime Ricky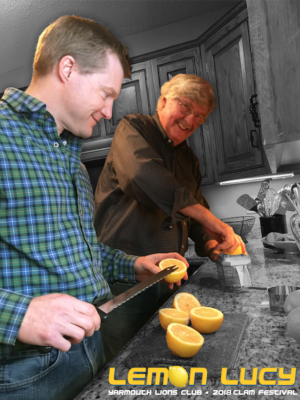 In 2018, two members of the Yarmouth Lions Club, Larry Forcier and Aaron Wilson, had developed a recipe for a lemon slush drink using 100% all-natural ingredients. They worked out a way to mass-produce it for Clam Fest, but were not sure what to call it. Knowing that the Lime Rickey had became the "must have" item at the Clam Fest food court for decades, the Lions decided on the name Lemon Lucy, as a nod to the Ricky and Lucy characters from classic TV series "I Love Lucy" starring Desi Arnaz and Lucille Ball (who were real-life husband and wife). "We know that the Lime Rickey is beloved at Clam Fest," said Larry Forcier, "so introducing the Lemon Lucy as a companion, but completely unique beverage in that it is the only lemon slush drink at Clam Fest, made the name a perfect choice."
The 2018 Lemon Lucy pilot was a success, so Larry and Aaron figured out a way to ramp up Lemon Lucy production for the 2019 Clam Fest, without compromising freshness or quality. The only thing that was left to do was to get the word out.
Lions Club member Jim Albright, took to the streets (literally and digitally) with a multi-channel marketing campaign designed to not only inform would-be Lemon Lucy fans about the new slush drink, but also build awareness that 100% of all proceeds from Lemon Lucy sales go directly back into the community. The Lions Club is the only food vendor at Clam festival who donates all of their Clam Fest profits to supporting local nonprofits and service organizations.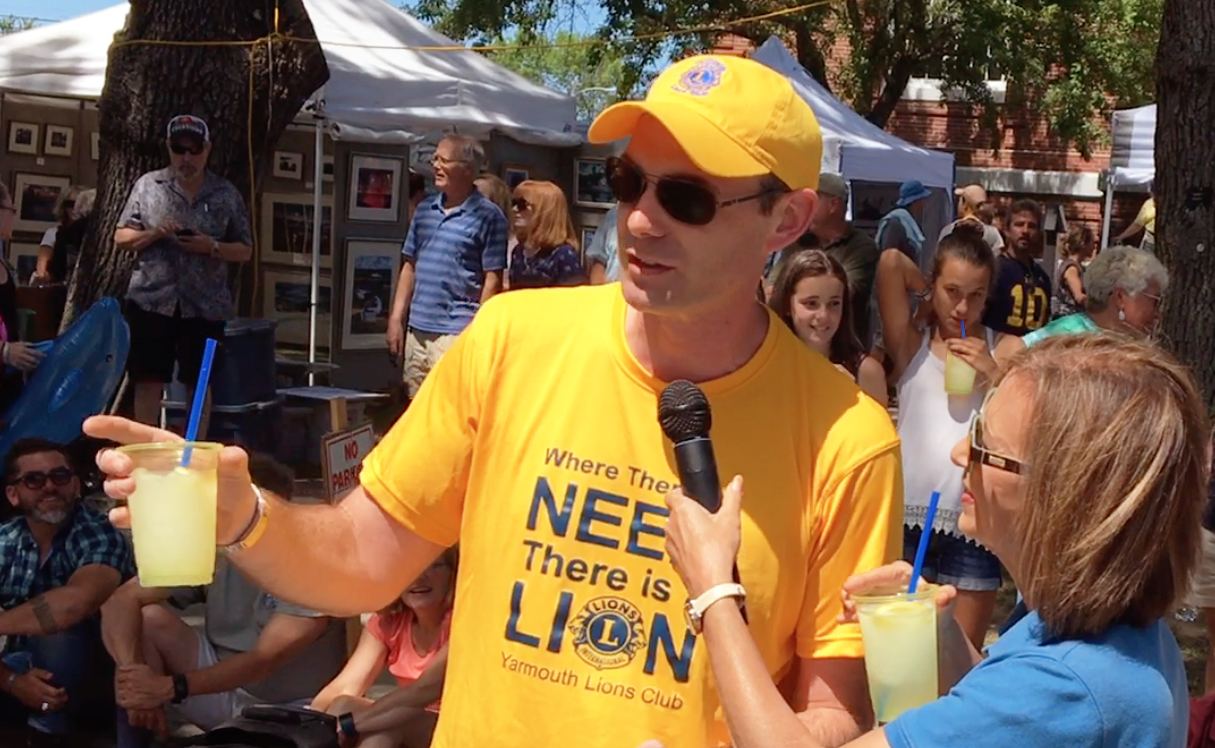 Clam Fest Reactions to Lemon Lucy Slush
The Lemon Lucy promotion videos that Jim had produced have stacked over 1 million views on social media, and given the hot weather, local media outlets are reporting that Clam Festival visitors can cool off with both Lime Rickey AND Lemon Lucy. As of this writing, thousands of Lemon Lucy slush drinks have been purchased, already beating 2018 sales. This means that thousands of dollars will be donated to local service groups to help those in need.
Learn more about the Yarmouth Lions Club Lemon Lucy slush drink at www.yarmouthlionsclub.org/lemonlucy.