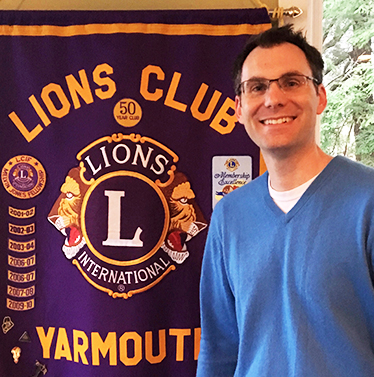 Officer Status:
Vice President (2018 – Current) and Board Member (2018 – Current)
Committee Memberships:
Marketing, Publicity & Advertising (Chair); Clam Festival Parade (Chair); New Membership (Co-Chair); Trees for Tuition; Wreaths for Fuel; Clam Festival Fundraiser
Why Join the Lions Club?
Having moved from out of state, I wanted to invest in my new community through volunteerism. I sat in on a Lions Club meeting and instantly saw how passionate the members were in caring for the well-being of Yarmouth and the wonderful people who live here.

At the start of every meeting Lions will toast each other with the following saying:
"Not above you; Not beneath you; But always with you"

The Yarmouth Lions Club is an amazing group of folks from all walks of life. We have a lot of fun, while making a real positive impact for many neighbors who could use a hand.
Favorite Lions Club Memory
I'm a marketer by trade, so creating positive experiences for people is a natural passion of mine. I love sharing the excitement around the many service programs that the Yarmouth Lions create and participate in that generate so much good for the town.

My favorite Lions Club memories are made when we're out in the community. No matter who you are with, or what you're working on, you're going to have a good time. I like to capture the fun on film and in pictures then create visual stories around WHY the Lions do what they do. We've made music videos to sell Christmas trees to raise money for scholarships, we've auto-tuned our Town Manager to celebrate 70 years of service, and even had orchestrated original music and dance moves around the "Where There's a Need, There's a Lion" theme for the Clam Festival parade – which won first prize and brought over 1 million views to the video.
3 Fun Facts About Jim:
Professional Experience: Marketing
Favorite Hobbies: Video and Graphic Design; Website Design; Learning about historical and modern technological and social innovations; Cycling; Hiking/Snowshoeing; Exploring Maine
Favorite thing about Yarmouth: A true sense of community