Yarmouth, Maine Christmas trees that fund scholarships for deserving Yarmouth High School students.
2023 Update:  We sincerely apologize but, despite our best efforts, we were unable to source any Christmas trees this year.
Like many other things the supply just isn't there, mostly due to poor growing conditions.  We intend to return in 2024, so please look for us next year!
By purchasing a Maine grown balsam Christmas tree from the Yarmouth Lions Club, 100% of profits will go into our Yarmouth High School scholarship fund. Yarmouth High School seniors  who receive a Lions Club scholarship are selected by YHS guidance councilors, who base their decision on greatest need, academic achievement, and extra-curricular activities.
Choose from a 7 foot to a 9 foot tree, and get a fresh cut! Lions will even help secure it to your vehicle.
Over the last 17 years, our Trees for Tuition program has funded over $90,000 in scholarships for deserving YHS students.
In addition to the Christmas Trees for Tuition sale, the Lions sell Christmas wreaths to fund a heating assistance program for neighbors who have difficulty paying for heating fuel during winter.
Lions also prepare Santa's Chalet for Jolly Old St. Nick and Mrs. Claus to meet with Yarmouth families. Kids not only get to tell Santa their Christmas wish, but enjoy free treats, while parents take advantage of great photo opportunities for holiday portraits.
---
Christmas Trees for Tuition is a Yarmouth Tradition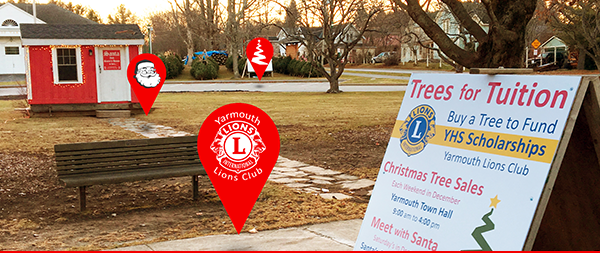 Where:
Yarmouth Town Hall next to "Herbie"
200 Main St. Yarmouth, ME 04096
When:
We hope to return in 2023!