Plans are in place to establish a space for the Yarmouth Community Center
The Notes – May 10, 2016
The April 18th meeting of the Yarmouth Lions Club was held at the Muddy Rudder. Our speakers for the evening were Horace Horton, chair of the Yarmouth Community Center (YCC) initiative, and Beth Costello, Vice-President of Yarmouth Care About Neighbors (YCAN), its sponsoring organization.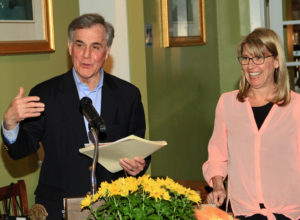 Horace Horton and Beth Costello
Horace provided a brief review of how the YCC initiative came to be. Last spring, at a community wide meeting at the Merrill Memorial Library, there was a consensus that Yarmouth needed a community center. The recently completed Yarmouth Aging In Place survey also confirmed this as a priority. Finally, Horace's wife, Barbara, who works at the Yarmouth Community Food Pantry, kept telling him that they needed more space. The Hortons came to YCAN earlier this year with a proposal, which was subsequently approved by their Board of Directors. Committees were formed, and an effort is now underway to consult with all nonprofit groups about what is needed in such a center. Horace emphasized that they are not asking for funding at this time, just collecting information.
He then turned the microphone over to Beth Costello who talked about what ideas have been put forth so far. She envisions the center as one place to go to meet many needs, much like the Freeport Community Center. Some of the ideas are the relocation of the food pantry, a thrift store, Yarmouth Community Services office, a Senior Center, a kitchen for community meals, a general assistance office (now currently in Freeport), a gathering place for coffee and conversation, a medical equipment loan closet, and an office for Southern Maine Agency on Aging programs, like tax assistance and healthy living. The YCC would not be just for seniors, but also include programs and services for all ages. An important component would be one phone number with a central referral service.

Back to the News page