Students reflect Lions motto of "We Serve"
The Notes – May 24, 2016
At the May 2nd meeting of the Lions Club, the Lions Club honored two High School seniors, Katie Glenn and Ethan Peters, for their outstanding contributions to community service during their four years at Yarmouth High School.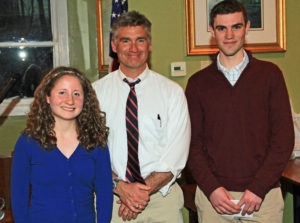 Katie Glenn, Colin O'Neill, and Ethan Peters
Colin O'Neill, a Lions Club member, gave the club some background on our tradition of providing high school seniors with community service awards, and then he then introduced this year's honorees.
Katie Glenn spoke to the club about her early interest in helping others. She told us that her 1st volunteer job was handing out programs at a concert at Royal River Park when she was just 11 years old. A contingent of Bay Square residents were in attendance at the concert, which then led to volunteer stints at Bay Square. She has also participated in the "Buddy" program which pairs up high school students with middle school students. She plans to attend University of Maine at Farmington to become a teacher.
Ethan Peters has had two main community service interests – his membership in the Boy Scouts and as a member of the Yarmouth Fire Rescue. Scouting has provided him with many opportunities. He has helped with projects at the Yarmouth Food Pantry, and he has assisted on various Eagle Scout projects. Ethan's Eagle Scout project was to build a fire pit on Cousins Island at Camp Sosi.  He has also been a part of the Junior Firefighter program and participates in weekly training sessions. Bill Goddard, Deputy Fire Chief and a Lions Club member, stood to thank Ethan for his service to the Fire Department. Ethan will be attending Worcester Polytechnic Institute majoring in Civil Engineering.
The Lions Club is always honored to recognize students who have devoted many hours above what is required in support of their interests and who have embraced serving others in our community. It reinforces our motto, "We Serve."

Back to the News page