Providing Vision Services for Immigrants in Maine
The Notes – April 19, 2016
The April 4th meeting of the Yarmouth Lions Club was held at the Muddy Rudder. Our guest speaker for the evening was Valerie DeVuyst, ESOL Program Coordinator and Student Advisor at Portland Adult Education (PAE).
Valerie has been involved in the effort to provide services for the growing "New Mainer" population in the greater Portland area for some time and oversees appropriate classes at PAE like English for Speakers of Other Languages (ESOL). In 2015 there were 1,993 students from 81 countries enrolled in PAE classes. The growing need for all types of services is outstripping supply. They are reaching out to other organizations that might be able to help in outlying communities like Yarmouth. Since one of the highest priority needs is to secure vision services for these students, they are approaching the Lions with a proposition to consider: "Would the club provide leadership and advice for obtaining these services through area optometrists and eyeglass providers?" These new Mainers knew the Lions Clubs supported vision projects and think it might be a good fit.
Valerie made a strong case for the Lions Clubs leading an effort to provide these services to the Portland new Mainer population. There are 3 components to the group: Refugees – those forced out of their country by famine or war; Asylum Seekers – those who have a visa, but can't return to their country; and Immigrants – those who want to be here to pursue a better life. One of main barriers these groups face is vision issues.  About 30%, or 500 students, need or have lost glasses. How do we get them glasses? They have no $'s to see a doctor or to buy glasses.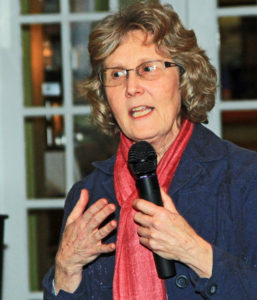 Valerie DeVuyst, ESOL Program Coordinator and Student Advisor at Portland Adult Education (PAE)
Asylum seekers have nothing, except general assistance for about 5 months, and are dependent on charity for most needs. Valerie stressed she was not looking for $'s, but rather leadership and advice.  Find optometrists willing to do the exams and write prescriptions; provide transportation to appointments; assist with eyeglass purchases; and help with the inevitable language problems.
A spirited discussion followed her presentation with several useful suggestions made. It's possible the Maine District 41 staff or the Lions Sight and Hearing Foundation may want to get involved to coordinate activities. There will be additional discussions with representatives from other Lions clubs as to what the Lions as an organization might do. Another meeting with Valerie will be scheduled at an appropriate time.
Learn more about the Yarmouth Lions Club Vision Program here.

Back to the News page