Lions Club invites community to learn about our history of service to Yarmouth
October 28, 2018 Update by Doug Carney
A special "open house" meeting was held on October 1st at the Muddy Rudder restaurant. Guests learned about the history, current programs and contributions the Yarmouth Lions have made to the town, and how they can volunteer or become a member. Speakers, all of whom are club members, addressed the following topics.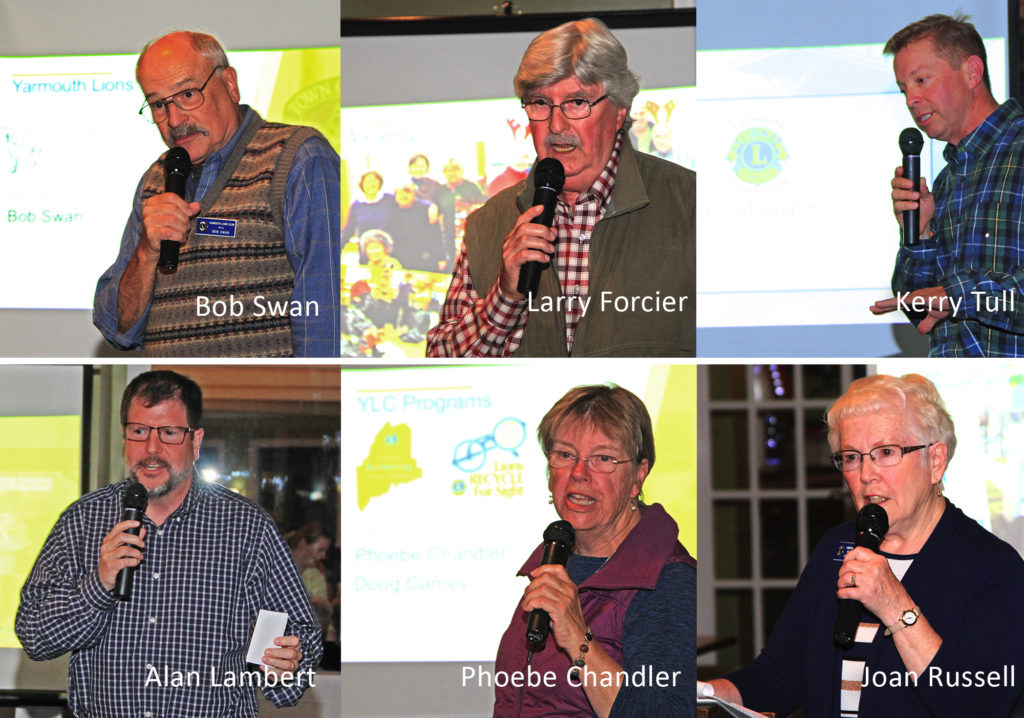 Bob Swan presented the history of the Lions Club International, as well as the Yarmouth Lions, from its charter in 1949, to the present.
Larry Forcier spoke of our involvement in the annual Yarmouth Clam Festival, with a history of what we sell and the charities that are supported by the profits that are generated from our food booth.
Kerry Tull covered the acquisition, preparation, and sale of Christmas trees for our Trees for Tuition program, noting that 100% of the profits go to fund college scholarships for local high school graduates.
Alan Lambert addressed our Wreaths for Warmth program, noting that 100% of the profits from the sale of 120-135 wreaths each year (about $2,000) go to the Yarmouth Heating Assistance Fund for those residents in need.
Brian Bicknell gave a history of Santa's Chalet, from its start in the 70's to the present day. Thousands of children and families have enjoyed visiting Santa over the years on the three Saturdays before Christmas.
Larry Forcier spoke about "Adopt A Family," a seasonal program in which contributions from Lions and local businesses are used to purchase, wrap, and deliver gifts to families and nursing home residents in need at Christmas time.
Phoebe Chandler covered the way the club has provided vision services to new Mainers through eye exams, glasses and transportation to receive these vision services.
Doug Carney reported that we have recycled over 14,000 eyeglasses over the past 15 years, and that we are 85% ahead of last year at this time.
Joan Russell briefed the attendees on where our dues money goes, as well as the process by which charities are selected to receive contributions from the Yarmouth Lions Club.
President Sandy Bowie closed the meeting with a well-deserved thank you to each of the presenters, a look to the future, and an invitation to prospective members to join our Lions Club and support our motto, "We Serve."