A staple of the Yarmouth Clam Festival, the Yarmouth Lions Club are ramping up community service awareness, food and fun
– July 16, 2018
The Yarmouth Lions Club has been participating at the Yarmouth Clam Festival for over 50 years, but this year, they are ramping up fundraising efforts to do more good in our town, and within Maine.
This year's Clam Festival parade theme is "Totally 80's", so the Yarmouth Lions thought it would be fun if the King of the Jungle became the King of Pop. During the parade, club members will be dancing behind a Michael Jackson "Thriller" themed limousine to re-recorded Michael Jackson favorites about what it means to be a Lion. A preview video was released earlier this week on Facebook, and already has over 8,000 views. You can view the video here:

In addition, the Lions Club will be bringing a new drink to Clam Fest called the Lemon Lucy. It is the only all natural hand-made lemon slush drink at the festival. The drink and the name was chosen as a nod to the classic TV series, I Love Lucy, as companion to the popular Lime Rickey, sold by the Downeasters choral group. When trialed during last year's Clam Festival, the Lemon Lucy got rave reviews. See the Lemon Lucy testimonial video:

What make the Lions Club different from all the other food vendors at Clam Fest is that they give 100% of all proceeds from food purchases to local community service organizations. Some of these groups include the food pantry, Yarmouth Cares About Neighbors (YCAN), and the Iris Network. Hundreds of thousands of dollars have been donated over the years, and just recently, the Yarmouth Lions were able to use funds from last year's Clam Fest to help the Yarmouth Fire and Rescue department purchase an emergency UTV, which will make its service debut at the Yarmouth Clam Festival.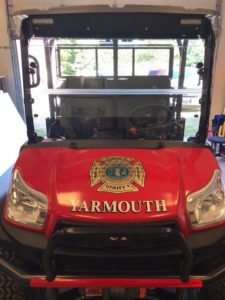 Yarmouth Lions contributed to Utility 1, Yarmouth Fire & Rescue's new UTV, which begins service at the 2018 Clam Festival
The Lions have extended their booth space this year to ensure they can meet food demand, and are looking forward to not only continuing their service to Yarmouth and surrounding communities, but having lots of fun.
Learn to learn more about the Yarmouth Lions Club at the Yarmouth Clam Festival, visit yarmouthlions.org/clamfest.