Yarmouth Community Center Steering Committee Continue Search for Available Locations
The Notes – April 3, 2018
At the March 19th meeting of the Yarmouth Lions Club held at the Muddy Rudder Restaurant, Horace and Barbara Horton, longtime Yarmouth residents, and co-chairs of the Steering Committee for the Yarmouth Community Center, gave an excellent presentation on the efforts of the steering committee, to locate a suitable piece of land on which to build a much needed Yarmouth Community Center.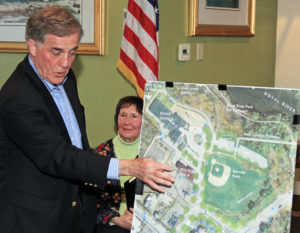 Horace and Barbara Horton present possible locations for a new Yarmouth Community Center
As Yarmouth has grown in population, the needs of the community have outstripped the facilities to provide these necessary services. For example, 91 families, numbering nearly 300 people, currently use the Yarmouth Food Pantry, which was not originally designed to support such great demand. Other services, such as medical equipment assistance, a meeting center, and youth support, are all located at disparate, and often inadequate sites. Numerous properties have been surveyed and several options close to the center of town are deemed feasible sites.
The goal of the steering committee is to identify a location for the community center, then raise the funds necessary for this undertaking through private donations. Various parties, including prospective donors, sellers, the Town Council, and the school department, are involved in the tedious acquisition process.
After the Lions met with the Hortons, we learned that the School Board voted to retain all of the property around the Rowe School for future expansion and parking needs. Therefore, the Yarmouth Community Center Steering Committee is researching other potential locations near the center of Town.
The Lions Club is very thankful and appreciative of the efforts of the Hortons and the steering committee to fulfill the needs of the Town of Yarmouth, and we look forward to supporting them in the future.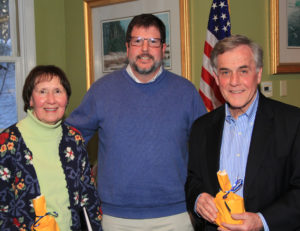 Yarmouth Lions 1st VP, Alan Lambert (center) with Barbara (left) and Horace (right) Horton of the Yarmouth Community Center Steering Committee