Lions learn about new programs for Yarmouth seniors, and welcome two new members
The Notes – March 12, 2018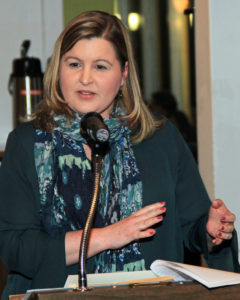 Maureen Brosnan provides local support for Yarmouth seniors
At our February 19th meeting, the Yarmouth Lions Club welcomed guest speaker Maureen Brosnan, a Community Resource Specialist from Southern Maine Agency on Aging. Maureen is filling a new position that the town has created to help our older adults and their families sort through the many programs and services available to help seniors live independently well into their elder years. Maureen is available to assist by phone (835­-9866), walk-in, or by appointment at the Merrill Memorial Library's Tutoring Room on Tuesdays and Fridays from 11am-3pm. Do not hesitate to contact her with any questions you might have regarding any program or service offered to our senior citizens. Read more about Moureen's new position with the town here.
Lion Bob Swan inducted two new members into the Lions Club – Johnathan and Linda Shute. They were sponsored by Lion Larry Forcier. In his amiable and knowledgeable way, Bob spoke of the history, commitment and loyalty of the Lions Clubs all over the world.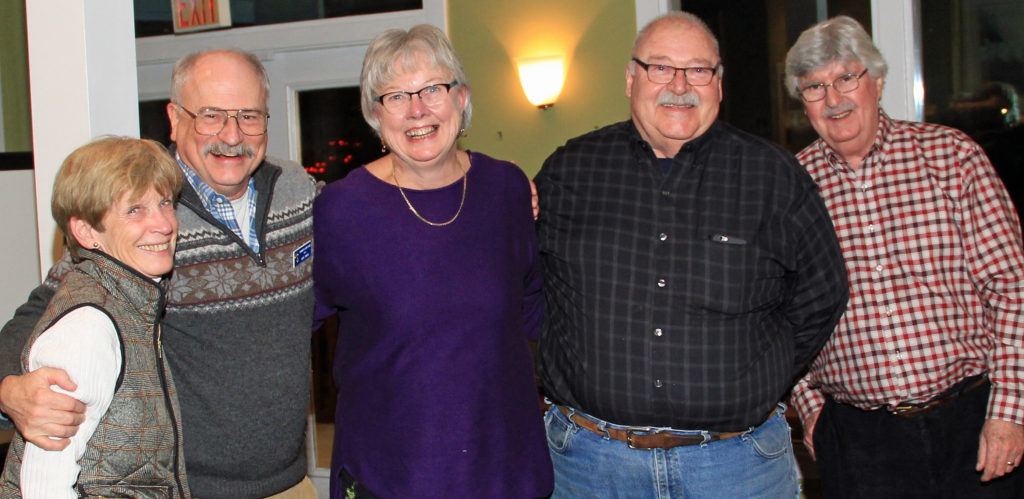 Club President, Sandy Bowie (left), and Lions Bob Swan (right of Sandy) and Larry Forcier (right) welcome Linda and Johnathan Shute (center) as the first new Yarmouth Lions of 2018.
The new members were then taught the "LIONS ROAR" and welcomed into the club.

Back to the News page