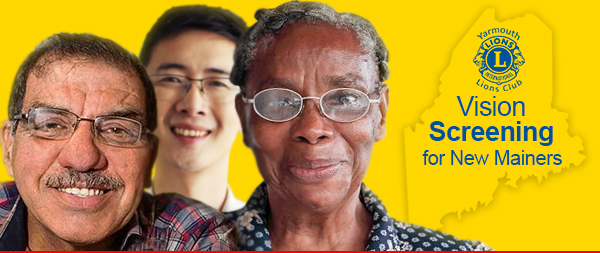 Helping improve vision for those in need is a core mission of Lions Clubs around the world
Vision Screening Program
The Yarmouth Lions Club work with service organizations and eye doctors to coordinate much needed vision screening appointments for local residents in need. In addition, we partner with the Maine Lions Sight and Hearing Foundation, to provide a free vision screening and a new pair of eyeglasses to new immigrants, refugees, and asylum seekers currently enrolled at Portland Adult Education.
Eyeglasses Collection and Recycling Program
For decades, Yarmouth residents have donated their used eyeglasses to the Yarmouth Lions. All donated eyeglasses are sent off to be repaired, checked, then re-distributed to people – of all ages – who are unable afford to buy a new pair. This service is provided through the Lions Clubs International Recycle for Sight program.
Find our used eyeglasses drop boxes at the following locations around Yarmouth:
• Hannaford Supermarket (Pharmacy Counter): 756 US Rt. 1
• Maine Optometry PA (Front Entrance): 407 US Rt 1, Freeport
• Merrill Memorial Library (Front Entrance): 215 Main Street
• Yarmouth Recycling & Transfer Station (Book Shed): 659 East Main Street
• Bayview Dental Associates (Front Entrance): 247 Portland Street
For more information on the Yarmouth Lions Club Vision Program, please contact Doug Carney.