The Jane Cleaves Vision Fund serves refugees and immigrants (New Mainers) who are actively enrolled in Portland Adult Education (PAE), by providing free eye exams and needed prescription eyeware for students not covered by any insurance.
Each Spring, PAE students who have been identified by their instructor as being visually challenged will be taken by volunteers to the Eyecare Medical Group in Portland, ME for a vision screening, then to Walmart in Scarborough, ME to select a new pair of eyeglasses.
Two ways you can help
OPTION ONE:
Donations to the Jane Cleaves Fund support eye exams and new eyeglasses for New Mainers. To donate online, visit the Friends of Portland Adult Education designated funds page, and select "Jane Cleaves Fund" from the menu on the right. To donate by check, please send payment to the address below with "Jane Cleaves Fund" written in the memo line:
Friends of Portland Adult Education (FPAE)
PO Box 3185
Portland, ME 04104-3185
OPTION TWO:
Volunteers are always needed to help transport PAE students to the eye doctor, and to select and pick up their new eyeglasses. If you are interested in volunteering a couple of hours or more one weekend in the Spring, please contact Phoebe Chandler at [email protected].
---
Who is Jane Cleaves?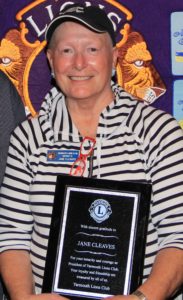 After 40 years working at Maine Medical Center, Jane Cleaves devoted her retirement to giving back to her community. Jane had joined the Yarmouth Lions Club, and soon began working with the growing number of immigrants, many of whom were enrolled at Portland Adult Education.
Jane had found that many of these "New Mainers", most who have escaped from war-torn countries, were struggling with their schooling due to poor vision. Providing vision assistance for those in need is a core staple of Lions Clubs International, so Jane created a new vision program in collaboration with the Lions, Portland Adult Education, and other local groups, to identify New Mainers with poor visibility, and get them the eye exams and eyeglasses so vital to their daily life.