The Yarmouth, Maine Lions Club sells locally made holiday wreaths to help neighbors in need have heat during Maine's cold winters.
All Christmas wreaths have been sold and all proceeds will fund the Yarmouth Cares About Neighbors (YCAN) heating assistance fund!!!
Thank You Yarmouth!!!
The Yarmouth Lions Club wreath sales are used exclusively to benefit the town's fuel fund for those needing assistance. This program, under the sponsorship of Yarmouth Cares About Neighbors (YCAN), has become increasingly necessary as Maine has recently seen harsher winters, higher fuel prices, and more people needing fuel.
Thanks to you, the Yarmouth Lions Club have contributed well over $15,000 to Yarmouth's fuel assistance fund since it began. Hundreds of families who had needed extra help to pay for fuel have benefited from this program.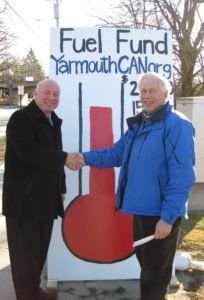 ---
2021 Holiday Program COVID-19 Update
The Yarmouth Lions Club are being guided by current CDC Coronavirus recommendations to keep our programs safe. Our tree and wreath browsing areas are placed farther apart to allow for social distancing, and hand sanitizer will be available.
---
Where to Purchase a Yarmouth Lions Wreath:
Weekends, starting November 26, 2021*
At Santa's Chalet
Yarmouth Town Hall
200 Main St. Yarmouth, ME 04096
*While supplies last
To learn more about the Wreaths for Fuel program:
Contact Jean Swan or Larry Forcier