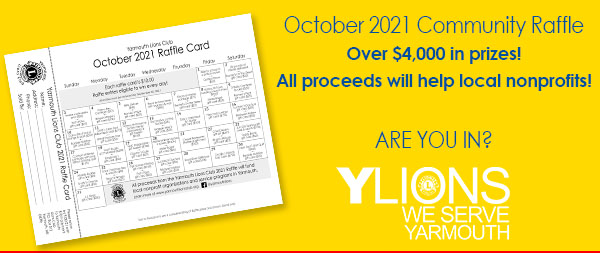 The Yarmouth Lions Club will be selling raffle tickets throughout the month of September, 2021 to help raise money for local nonprofit organizations and community projects.
Over $4,000 worth of items have been generously donated by local businesses and individuals to make this raffle a success!
How does the raffle work?
Purchase a raffle ticket from a member of the Yarmouth Lions Club for $10.00 before September 30, 2021 to be entered into the raffle. Each raffle ticket has a chance to win each day during the month of October 2021.
To enter, simply complete the entry form section on the raffle card, and return the entry form and $10.00 (cash or check only please) to the Yarmouth Lions Club member who sold the raffle ticket, or mail it to:
Yarmouth Lions Club
P.O. Box 512
Yarmouth Maine, 04096.
Winners will be randomly selected for the previous week's daily prize drawing on Mondays (October 4, 11, 18, and 25). Winners will be called the Monday of the drawing and informed which prize(s) they won. Winners will also be given instructions on how they can receive the item(s) won.
There will be only one winner each day in October. If you become a winner, you are still eligible to win each of the remaining days on the calendar.
October 2021 Donated Prizes
The Yarmouth Lions Club would like to express their sincere gratitude for the contributions from the following local organizations & residents:
Anonymous: $100 gift card to Binga's Wingas
Anonymous: $25 gift card to Romeo's
Anonymous: $25 gift card to Clayton's Café
Anonymous: Quilted throw
Anonymous: 20 pounds of live lobster delivered within 10 miles of Yarmouth. Must take delivery within 2 weeks.
Bath Savings Bank: 4 tickets to Maine Mariner's Hockey Game
Bayside Nutrition: (x2) $25 gift cards
Big 20 Bowling: 3 tickets for 3 games each
Binga's Wingas: (x2) $25 gift cards
Brickyard Hollow: (x2) $50 gift cards
Casco Bay Car Wash: 4 car wash tickets
Casco Bay Ford: Oil change & car wash
Charlie's Friends Day Care: $150 gift certificate
Coastal Ace Hardware: BBQ Grill Set
Deb Coito: Quilt made from Yarmouth Clam Festival T-Shirts
Day's Crabmeat and Lobster: $100 gift card
Scott Dugas: 4 cubic yards of sand, crushed gravel, crushed stone, bark mulch, or screened loam. Material will be delivered within a 15 mile radius of Yarmouth.
Epic Image Salon: $50 gift certificate & gift basket
Estabrook's: $50 gift card
Hancock Lumber: $150 gift Card
Island Treasure Toys: $50 gift card
Judy knaub: Locally made kid's Adirondack chair hand painted with Clam Festival décor
Rob Ketcham: Decorative cutting board (maple with walnut and curly maple stripes and wood conditioner)
L.L. Bean: $250 gift card
Lucinda's Day Spa: (x2) $50 gift cards
Maggie Mae's: $25 gift card
Mister Bagel: (x2) $25 gift cards
Muddy Rudder: (x2) $25 gift cards
O'Reilly Auto Parts: Car wash kit with bucket
P&P Screen Printing: $100 gift card
Pat's Pizza: (x2) $25 gift cards
Rachel's On the Green: (x2) $25 gift cards
Romeo's Pizza: (x2) $25 gift cards
Royal River Grill House: (x2) $50 gift cards
Joan Russell & Cheryl Roberts: Comforts of Winter Basket (Blue Ribbon winning twin quilted comforter, 2 mugs, 2 pair handmade mittens, gourmet hot chocolate, 2 L.L. Bean hand warmers)
Smitty's Cinema: $50 gift card
Sun City: $50 gift card & hand clutch sized bag
Bob & Jean Swan: $100 gift card to Chaval Restaurant (Portland)
Jean Swan: Visions of Maine (Thank You Notes—Fishing Village, Large Note Cards—The Cat, the Wood Stove and L.L. Bean Boots, Paper Napkins with Maine State Bird image, Stonewall Kitchen Wild Blueberry Jam, Tote Bag with Pemiquid Lighthouse image.
Toddy Brook Golf Course: $25 gift card
Kerry Tull: Race ski tune-table, complete with vices, wax iron and waxes
Laura Wilkinson: Chef Dreams Gift Set (Pasta Maker, Anolon Nouvelle Copper 2.5 Quart Covered Saucier, Manual Food Processor, Nordic Ware Big Sheet, Nordic Ware, Reversible Griddle)
Yarmouth Frame Gallery: Herbie Multi-Media Print
Yarmouth Historical Society: Family Membership & gift basket (04096 baseball cap, 2 cobalt blue mugs, 4 reproduction Yarmouth canning company labels magnets, 1 YME sticker)
Yarmouth Lion's Club: Christmas tree and wreath (Available late November 2021)
Yarmouth Police Department: Ride to school in cruiser
Yarmouth Harbor Master : 2022 Yarmouth Town Landing Launch Pass
---
Special thank you to Lindquist Funeral Home for the printing of the raffle cards.
Questions?
For questions regarding the raffle, please email Avril Murphy at avemurphy@yahoo.com
---