[Yarmouth, Maine – December 31, 2020] The Yarmouth Lions Club had broken a new record in 2020 for their Trees for Tuition holiday program, selling out over 360 Maine-grown Christmas trees in less than 18 hours.
As trees were being unloaded from the truck on Friday, November 27th, Yarmouth residents were arriving to pick out their tree, and by the end of the first weekend, almost all trees were sold. The remaining Lions trees sold over the next few days.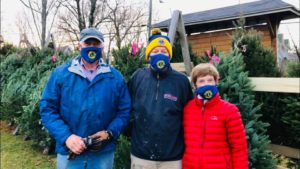 Each year, the Yarmouth Lions Club sells Christmas trees to raise money for scholarships awarded to deserving Yarmouth High School graduating seniors. By selling out of trees, the Lions will be providing thousands of dollars in scholarship awards to students selected by YHS advisors in 2021.
Learn more about the Trees for Tuition program at www.yarmouthlionsclub.org/trees